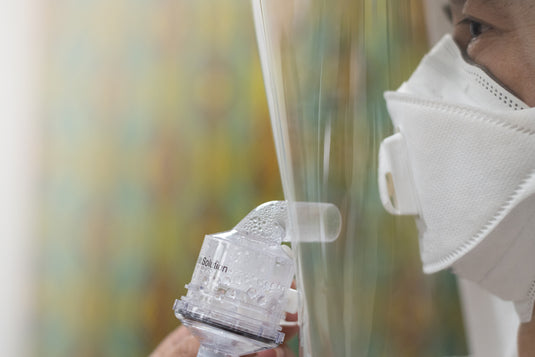 Respiratory Fit Testing
It is important that you use a respirator that fits properly to protect your health and safety. A respirator should form a tight seal with your face and neck to work properly otherwise it can not protect you. A respirator that does not fit your face properly, can allow contaminated air to leak into your facepiece resulting in breathing hazardous substances. It is the employers' responsibility to make sure that the respirator fits properly.

A 'fit test' tests the seal between your face and the respirator's facepiece.
We do both Qualitative and Quantitative fit tests for your respiratory protection
Fit tests can be done either at our location or at your job site as per your preference and convenience
Our testing is done in compliance with CSA Standard Z94.4-18
Upon successful test completion, we provide you with fit test records so you can identify the worker and their corresponding respirator model
Contact Us
DOP/PAO Testing
Technicians perform DOP test to test the integrity of HEPA Filter and equipment and determine that are operating at the efficiency that is safe to use in hazardous environment. Any equipment that uses a HEPA filter needs to be tested at regular intervals. HEPA filters are tested to 99.97% @ 0.3 micron efficiency.

It is recommended that HEPA filtered equipment should be tested for each project onsite.
We offer DOP/PAO both on-site and at our location.
As part of testing, our technicians ensure professionalism, outlined safety practices and compliance with applicable regulations.
Contact Us